"I sought the Lord, and He answered me; He delivered me from all my fears…

This poor man called and the Lord heard him; and saved him out of all his troubles."
Our family, ministry, and neighborhood are going through a season of change.  Over the past several months, many of our neighbors and friends have become displaced as the housing market tightens and rental rates increase.  Our family is also facing some of the fears of change.  Our living arrangement will be changing next month, and we are joining our neighbors in a housing search.
Through all these changes and in the midst of other challenges, we are calling out to the Lord.  We expect Him to answer us and lead us according to His will.
As you read below, you'll see that many of our relationships have deepened over the past months and several young ones have been choosing to follow Jesus in the midst of their challenges.  We are hopeful to continue walking with our neighbors through every season of the soul.  Thank you so much for your prayers, support, and concern for our family!
The Daniels
612-750-6994
---
OUTREACH
Man Up Event
In June, we partnered with several ministries across the Northside for an open air street outreach.  Our friend Melanie with MARCH helped organize a prayer tent during the event, and we saw several people encounter Jesus in a profound way.  Several local pastors have expressed interest in continuing to meet weekly in the space on Broadway Ave by the liquor store for prayer and evangelism.  This is a great step in collaboration for the Gospel of Jesus across denominations and racial barriers! Many thanks to all the local partners who helped make this event a success!
Highlights

:
Several on site water baptisms
Pastors and local leaders working together
Prayer and deliverance for many neighbors
Practical engagement of the Gospel through haircuts, suits, job skills, and relationship building.
This slideshow requires JavaScript.
Summer BBQ's
We've continued our weekly tradition of weekly BBQ's.  Every week we feed 50-75 neighbors and do our best to engage them with the Gospel through listening, sharing, and praying with them.
One special note for me is that some of the kids I met 3-4 years ago are now taking leadership roles in setting up and running the events.  I'm hopeful that as school starts this Fall, they will continue their leadership development by starting Bible studies at their schools and actively sharing their new faith with friends, family, and teachers.
DISCIPLESHIP
Mini Camps
Jesus gave us the idea to hold a few informal 'mini camps' for kids this summer.  The first was a Photography camp, led by our amazing volunteer Andy.  Andy also happens to be the lead photographer for the Minnesota Vikings, and blessed us with equipment and directions for a day 'camera camp'. [check out the images from the kids here]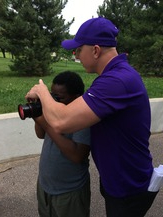 The hope for each of these camps is that the kids learn a practical skill, meet a professional or local leader in their field, and see a different aspect of the Gospel in action.  For example, the kids in the camera camp learned about "Perspective" in photography.  The Gospel application is that "Faith is our Perspective on Life".  Our faith in God dictates the way we see the world.  Other camps will include video and dance, and we are hopeful to put together a small production to share the Gospel story with their parents and family members next month.
Lifestyle
We've done a lot of just 'hanging out' with  neighbors.  A few highlights for me were:
Bike Rides
Fishing Trips
Nerf Wars
Remote car racing
Swimming Trips
Playing games
Birthday Parties
Cook outs
Valley Fair Day (Mega Thank you to Majestic Masonry!!!)
As we make space to be with our neighbors, God opens doors for deeper conversations about demons, angels, the Holy Spirit, and Jesus' message of the Gospel.  Last week Sam and I were simply playing Risk with a couple neighbor boys, and one turned to ask me: "Do you know how to kick out demons?"  It led to a good talk about Ouija boards, demons, righteousness, and how the Holy Spirit works.
UPCOMING
Camping Trip
Tomorrow morning, I'm taking several boys on a camping trip up North.  Please pray for me!  Also, please pray that the Holy Spirit would do a deep work in the lives of these young men.
Urban Discipleship Training
We are partnering with Life on Life Discipleship and Beacon of Hope Church to host an Urban Discipleship Training next month.  Join us Aug 6th at 7pm at Beacon of Hope for a time of worship, prayer and teaching about reaching our urban neighbors. [more info here]
Timothy Initiative
We've been invited to take part in the Timothy Initiative (TTI) for ongoing discipleship training and mentoring.  This is a group of 15-20 ministries throughout the Twin Cities that are committing to hold each other accountable to the Great Commission, regardless of time or cost.  It's been a joy to meet and pray with other ministers and dream a bit deeper on what discipleship could look like in North Minneapolis.
FAMILY
Please keep our family in your prayers.  We just finished a very busy season and have several things to pray through in regards to housing for our family and the place for Miah to work or invest her energy. (For those who don't know, Miah finished her degree in January and was hired in February to fill in as a teacher through June.  School and work were very busy for our family, and we are being prayerful about where we should invest time together as a family.)
The Daniels
612.750.6994
Giving: https://810project.com/giving/